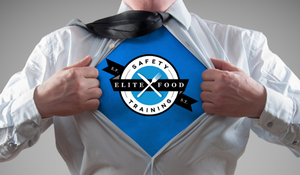 National Food Safety Education Month is here again and as always Elite Food Safety Training has everything you need. Food Safety is our priority, so the month of September is kind of a big deal for us.
We want to take you back to the basics and dive into the 4 foundational steps of being safe with food – Clean, Separate, Cook, Chill. Each week we will break down one of these steps – providing you with the knowledge and tools necessary for practicing food safety. BUT – that's not all. We are also going to throw in some helpful tips from our team and some of our favorite recipes for you to try.
Here is a quick breakdown of what we have for you in the month of September:
Week One (September 5) - Clean
- Proper ways to clean produce
- Proper ways to clean surfaces
- Proper handwashing
- Tip of the Week
- Owner, Sam Derr's favorite Breakfast Burrito (Hint* You want to know about the salsa on this one)
Week Two (September 12) - Separate
- What foods should be separated
- How to store foods separately
- How to prepare food separately
- Tip of the Week
- Director, Sara Robert's favorite Cream Chicken and Mushroom Soup
Week Three (September 19) - Cook
- Proper cooking temps
- How to temp
- How to stay sanitary during cooking
- Tip of the Week
- Assistant to the Director, Laura Geer's favorite Italian Focaccia Bread
Week Four (September 26) - Chill
- Temperature Danger Zone
- Ways to cool food properly
- How long to store foods
- Tip of the Week
- Instructor/Auditor, Mark Richardson's favorite Fried Green Tomatoes with Lime Chili Grilled Shrimp
Keep a look out for our weekly blog posts for more information!