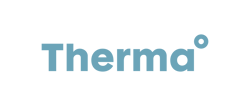 One of the biggest wastes of money that a restaurant can experience is food loss. Imagine stocking up your refrigerators one day, only to come in the next day and find out the refrigerator quit working over night and everything is now spoiled. You have to throw it all away. That can cost you THOUSANDS of dollars. It can happen. But, what if you were notified the second that refrigerator's temperature started rising? If you had advance notice, you can take steps to save yourself a lot of heartache.
One company has a solution for you: Therma. Therma is a wireless temperature and humidity monitoring system for your refrigerators or coolers. Install the Therma device in your unit and it wirelessly monitors your systems and will notify you when the temps start rising. Therma's monitors are built to work in freezers, coolers and the other harsh environments. Therma also offers military grade security for your data so you can be rest assured that you are protected. The best part? Therma is a monthly low-cost solution to an expensive problem.
Not to mention - you can save yourself time during inspections because this will cut out your need to do routine temperature checks and logs. Maximize your time and your employee's time by eliminating the need to endlessly log temperatures.
Therma is setup to with many different configurable alerts via SMS, email, and/or a phone call. You can also notify multiple people so you can be assured that the problem is addresses as soon as you are notified.
We would love for you to take part in a demo where you can experience the power of Therma. Register for your FREE demo - you will not be disappointed!